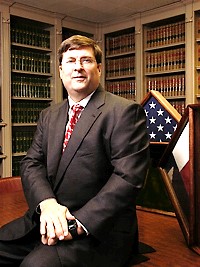 We at the Law Office of Robert B. Goss, P.C. are delighted to announce that our principal and founder, Bob Goss, is being honored this month in the December 2015 edition of Houstonia Magazine as one of Houstonia's "Top Lawyers of 2015."
Houstonia Magainze partners with Avvo, the well-known attorney rating and review site, to identify lawyers who merit inclusion in the Houstonia "Top Lawyers" list.  Avvo uses a proprietary algorithm which factors in professionalism variables such as peer endorsement, attorney experience, education, training, public speaking, publishing, and awards.  Reader nominations and Houstonia Magazine's own editorial review of nominee's accomplishments are important additional considerations.
This is the third year that Bob (pictured at right) has been named by Houstonia as one of its "Top Lawyers."  Among his many credentials, Bob is a decorated U.S. Airforce pilot and a disabled Veteran.  Bob's civilian accomplishments include the following:
EDUCATION
Texas A&M  (1981, B.S., Aerospace Engineering)
Texas A&M  (1982, M.S., Aerospace Engineering)
Cumberland School of Law, Samford University (2006, J.D.)
University of Houston Law Center (2008m LL.M. degrees in Health Law and Intellectual Property & Information Law
BAR ASSOCIATIONS
Chair, Military and Veterans Law Section (2013 – 2014)
OTHER PROFESSIONAL ORGANIZATIONS
Bob's name appears as one of Houstonia's "Top Lawyers of 2015" in this month's edition of Houstonia Magazine (December 2015).
Do you have a legal issue?  The good news is, by taking prompt, early action, you are in the best position to maintain or improve your situation.  DON'T WAIT.  Contact the Law Office of Robert B. Goss, P.C. today to a FREE consultation.