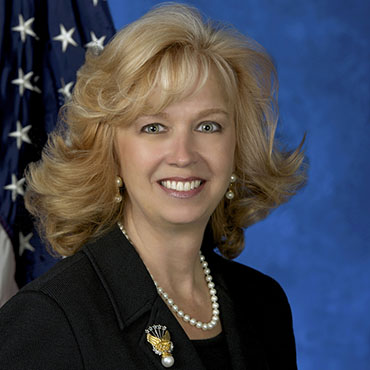 Then-Secretary for the Department of Veterans Affairs (VA), Eric Shinseki, resigned in May 2014 after a shocking season of revelations regarding Veteran deaths at the hands of VA.  Last month, on October 16, 2015, VA Under Secretary for Benefits, Allison Hickey (pictured), resigned in the wake of a pay fraud scandal involving senior bureaucrats Diana Rubens and Kim Graves.
Rubens and Graves – ironically – were put in place by Hickey in 2014 to clean up following the international news coverage of Veteran deaths and VA's back-log of benefits claims.  World-wide exposure of VA's actions highlighted the shameful treatment U.S. Veterans suffer at the hands of the very agency that supposedly is dedicated to Veterans' well-being.
It is no secret that corruption and nepotism are rampant within VA.  This is in addition to the "garden variety" bureaucratic incompetence which plagues this agency.  Former VA Secretary Shinseki didn't appreciate the potential criminality, neither did former Under Secretary Hickey, and it's unclear whether the present Secretary, Bob McDonald, really understands it either.
Let Us Not Forget
In a fairly shocking revelation last May 15, 2014, then-Secretary Shinseki testified before the Senate Veterans' Affairs Committee regarding treatment delays at VA hospitals in Phoenix, AZ and elsewhere.  This was a one-subject hearing.  The only topic was VA manipulation of patient wait times, designed to mask hideous delays in Veteran treatment.  Secretary Shinseki was asked a lot of questions by the Senators, including whether he was familiar with an internal VA study on "gaming strategies" for VA patient wait times and a resulting April 26, 2010 VA memorandum which actually used the wording "gaming strategies" to discuss VA's corrupt practices.  Secretary Shinseki replied that, no, he was not familiar with either the internal working group or the memo.  Well, what do you think? Practically waving his hand like an eager student, Dr. Robert Petzel, the then-Under Secretary for Health, piped up and noted that he – Dr. Petzel – knew all about the group, the gaming strategy issues, and the April 26, 2010 memorandum.  Dr. Petzel looked sort of proud of himself for being so well-informed.  Shinseki shot Petzel a look that said, "And WHEN were you planning to tell me about this?!?"  No surprise – Dr. Petzel "resigned" the very next day.
What does this mean?  Well, imagine if your boss was required to testify before Congress, for any reason.  You discover there's only going to be one question asked at the hearing.  Let's say the question is, "Why did you paint the building green instead of blue?"  You might, in preparing your boss for a public grilling, think it's a little important to let him know that, just after he was hired, a whole group of you held a series of meetings without him to discuss whether to paint the building blue or green.  You all decided to paint it green and issued a department-wide memorandum on the paint choice.  Yes – you might think it's a good idea to mention all this to your boss, just so he isn't blind-sided at the hearing.  But, VA's top brass had no problems keeping their boss in the dark while they went ahead with business as usual.  Incompetence?  Arrogance?  Deliberate set-up?
Why You Need an Advocate
When dealing with VA, you need a representative who understands the agency.  You need someone who truly realizes you are facing a fight with an organization plagued by corruption.  You need someone who isn't naïve.  Someone who knows there actually is a conspiracy to deny you benefits.  Someone who is going to take the fight right back to those Washington-based bureaucrats and make sure you receive all the benefits to which your military service and medical condition entitle you.  And you need someone who realizes the badness can go way up VA's chain of command.
Why You Need an Attorney in You Fight with VA
The most important step is realizing VA does not believe it exists to help you.  Once you understand that you are in a legal and moral fight with VA, the decision to have knowledgeable legal representation is pretty straight-forward.  Most people wouldn't take on a legal battle without an attorney.  Sad to say, a Veteran without an advocate can face an exhausting legal fight when trying to obtain even meager benefits from VA.  It shouldn't have to be that way, but it is.  Fortunately for U.S. Veterans and their families, there has been sufficient public documentation of VA's wrong-doing that most people understand how bad VA is and realize they need representation.
What an Attorney Can Do For You
VA is notorious for ignoring Congress, our courts, and any other type of authority.  Because VA is a soulless "juristic person," it is difficult to hold any one individual accountable for wrongdoing.  That's where an attorney is helpful.  An attorney represents you.  An attorney is your advocate.  An attorney knows how to speak up to specific bureaucrats if they are doing you wrong.  An attorney knows how to gather evidence, how to report issues to the Office of Inspector General (OIG), and how to put together your case so it's legally sound, factual, and persuasive.  An attorney does not underestimate the grit and determination required to prevail against a bureaucracy which apparently is primarily dedicated to preserving high-salaried jobs for themselves.
A Final Thought
Allison Hickey resigned after revelations that Kim Graves and Diana Rubens, two of her trusted senior officials, may have defrauded the government (that is, we, the people) by manipulating locality pay and move "reimbursements."  The OIG report detailing this story reads like a Hollywood movie script on vice and corruption.  As long as the tradition of self-dealing continues at VA, you need an advocate.  It would be nice if VA actually focused on helping Veterans but, until that happy day arrives, you need a personal representative who won't quit until the mission is accomplished for you.  Contact the Law Office of Robert B. Goss, P.C. today if VA has denied your request for benefits.
Veterans – are you receiving all the benefits to which your service entitles you?  If you have doubts, there's good news.  By taking prompt, early action, you are in the best position to maintain or improve your benefits situation.  DON'T WAIT.  Contact the Law Office of Robert B. Goss, P.C. today for your FREE consultation.