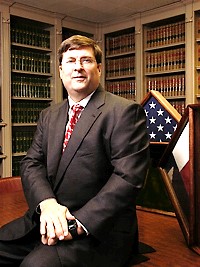 Robert B. Goss is a Veteran, attorney, and the founder of the Law Office of Robert B. Goss, P.C.  Bob, as he prefers to be called, started his law firm in response to the need he saw for a level playing field between Veterans and the government system intended to provide benefits to Veterans.  Recently, I had an opportunity to discuss with Bob some of his thoughts on how Veterans can be better served.  The following is Part I of a two-part conversation.
Eleanor Meltzer:  Bob, thank you so much for your time today.  What makes Veteran law different from other legal areas?
Robert Goss:  Veteran law is a team effort, with collaboration between the Veteran and our firm.  Professionally, it is my pleasure to be able to take a complicated case and prove the Veteran's disability to the Department of Veterans Affairs (VA).  Educating Veterans is critical.  What I mean is, after you deal with a disability, you forget all the accommodations and adjustments you had to make to overcome that disability.  Your disability becomes the new normal.  So, a lot of Veterans discount how many lifestyle changes they and their families have made to accommodate a service-connected disability. I know that, so we really talk with our Veterans and learn how the Veteran has adjusted.  This information enables us to explain to VA and courts all the social and occupational adjustments the Veteran has employed to overcome their disability.  There's almost nothing I like better than sharing this kind of information with our Veterans and their families.  The only thing that's better is winning a case for a Veteran!
M: Bob, let's talk about cases.  You and the team you've put together have an impressive advocacy track record.  What are some of your secrets?
G: I developed our firm based upon the concept of family and friends who have a passion to protect their troops.  Helping Veterans is our passion.  Three of the four Veterans here on our team are 100-percent disabled.  Another will be there when the VA finally completes his appeal.
As far as a secret, I don't know if it's so much any secret knowledge as it is expertise.  We know the relevant VA law.  This is one of our most important strengths, knowing case law, VA laws and regulations and then applying these "rules" to the symptoms and disabilities of the case.  We also understand both Federal and state laws, as well as court practice and procedures.  Our work pursuing Veterans' claims means we know VA's policies and procedures.  As I mentioned, we also realize that Veterans inadvertently underestimate the impact of disabilities on their life because they're so used to making do.  We're able to ask the right questions to provide the VA rating official or judge with a full- impact picture.
Another strength is we are persistent.  I think persistence is where we provide an additional value to Veterans and their families.  At some point, if you don't have an advocate like us, you may feel like giving up.  It's the same reason they tell you to have an advocate when you go to the hospital.  You – the Veteran or patient – you're just too sick and tired to fight.  If you have an advocate, you can avoid bad outcomes and prevail.
M:  Bob, you are a Veteran.  As a Veteran, what are some instances where you have used an attorney?
G:  In my lifetime I have hired attorneys several times.  I also hired an attorney to help me with my own VA matter, because attorneys are very good at keeping the emotion out of it and focusing on the elements of the case to be proven.
Honestly, it was my own negative experiences with trying to obtain disability compensation from VA that inspired me to start this law firm.  It's why I call my practice "AttorneyforVeterans"  Veterans need an attorney – someone who can focus on just their issues – because otherwise it's too complex and exhausting.
 M:  Your last comment prompts me to ask this next question.  There are a lot of Veterans Service Organizations (VSOs) available.  Why shouldn't Veterans rely exclusively on VSOs, since they're usually free?
G:    When I first got out of the service I used a VSO to begin my claims process.  Through working with Kevin Ross of AMVETS, I saw the tremendous workload that VSOs endure.  Years ago, a typical Veteran Service Officer handled over 1,300 cases a year. That much volume did not allow a Veteran Service Officer to stay abreast of the complicated case law and regulations for their clients.
VSOs do a good job, but some list every current ailment the Veteran has, hoping something "sticks."  That approach doesn't garner the best results.  Also, few VSO employees are attorneys, so of course they can't do some of things for which you need an attorney, such as representing you at the U.S. Court of Appeals for Veterans Claims.  From a legal perspective, the biggest thing I see in many cases is that the VSO does not develop the evidence.  This goes back to their huge case load and, I believe, the relatively cozy relationship VA and VSOs have developed since World War I.
Some Veterans are unhappy when the VSOs ask them to join their VSO for a year, then become a life member.  If the Veteran wins, some VSOs ask the Veteran to donate up to $10,000.   
M:  In helping individual clients, what would you say are the most common reasons a Veteran should seek assistance from you?
 G:  Based on feedback, I can share reasons Veterans have given for using our law firm.  As one Veteran put it, we are persistent and have attention to detail.  Other Veterans have noted that we don't give up. We are knowledgeable.  We provide sound advice and counsel.  We don't let VA's run-around frustrate us.
I should add that many people don't realize VA prohibits attorneys from representing Veterans until VA has issued a rating decision and a Notice of Disagreement have been filed.  You might ask yourself why VA wants to prevent Americans from having legal representation right from the start.  VA has been quite energetic in making sure Veterans cannot have legal representation when they file their claims.  If someone calls our office and has not yet received a rating decision or wants to start their case, we explain over the phone how to do that.  We also tell Veterans to call a VSO or the VA.  Veteran Service Organization offices do serve Veterans.
Veterans make an educated decision that VSO or VA assistance is not working for them.  At this point, many Veterans are angry and ready to give up.  Veterans know VSOs theoretically do not charge and that hiring an attorney will cost some of their back pay.  So, they make a deliberate cost-benefit decision that hiring an attorney is worth it.
Once a Veteran receives a rating decision and wants to file a Notice of Disagreement, that's where our law firm comes in.  We are Veterans.  Mike, Ron, and I are retired military members.  We understand what Veterans are feeling, the hope, the fear, the needs our clients have  – and we also understand the legal steps, such as perfecting evidence, that are part of winning for Veterans we represent.
Next:  Part II of the interview with Bob Goss, founder of the Law Office of Robert B. Goss, P.C.
Any notice from VA should not be ignored.  It won't improve with time.  The good news is, by taking prompt, early action, you are in the best position to maintain or improve your benefits situation.  DON'T WAIT.  Contact the Law Office of Robert B. Goss, P.C. today to a FREE consultation.