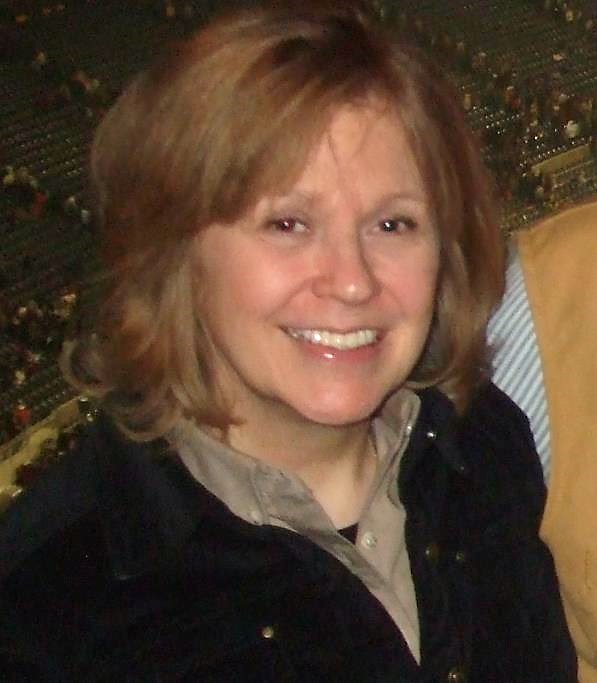 Bob Goss, founder of the Law Office of Robert B. Goss, P.C., has built his law practice around the concept of family and friends who have a passion to protect our troops.  As part of a series of conversations with our law office family and friends, it is a pleasure to introduce Ms. Dee Doutel, Senior Paralegal with the firm. 
Eleanor Meltzer:  Dee, it is great to talk with you today!  Could you tell us how you met Bob (Goss) and started working for the Law Office of Robert B. Goss, P.C.?
Dee Doutel:  I met Bob through a mutual friend of ours.  Two years ago, my eldest brother died suddenly and unexpectedly.  As a result, I was the lone surviving Officer and Director of the Corporation he co-founded and was forced to spend all of my time working on keeping the Corporation going while trying to find a buyer for its assets.
During this time I reassessed my priorities in life.  I had no desire to return to the legal corporate world once obligations to my brother's company ceased.  Instead, I started working in our Parish Church Office to assist and minister to those needing help, which includes those who might only need someone to listen to them, or give them a welcoming smile.
It was a couple of months ago that a friend, who was also a friend of my deceased brother, approached me.  He told me about Bob Goss, stated that he was a disabled Veteran who was also an attorney.  He told me of Bob's struggles in obtaining his disability status from the VA.  I was told that Bob's mission is to help his fellow Veterans go through the same process that he's endured in order for them to receive their VA benefits.  When being told this, I immediately recalled reading press reports of last year regarding Veterans who had died without having received proper medical care as a result of the VA's ineptness.  The feelings of anger I'd experienced at the time resurfaced.  And, I thought to myself that, if I returned to work as a paralegal, this was the type of law I would like to do.  I wanted to use the legal skills I've developed over the past twenty-five years to give back to our Veterans who have risked their lives to protect our country.
Afterward, I met Bob and, as they say, the rest is history.  I still work at our Parish Church Office as well as for the Law Office of Robert B. Goss, P.C.  This makes for a very long workday, but I feel that I am truly helping people.  Life is short; helping others is important to me.
E:  Even though you have such long days, you are always prepared – and so cheerful!  You handle an amazing workload.  Could you describe a typical day in the office here, if there is such a thing?
D:  Well, I have only been working here for a couple of months, so I haven't yet settled into a routine.  The most important responsibility of a paralegal, as is standard in any law firm environment, is to ensure that deadlines imposed by judges or set forth in the rules of law, are met.  With respect to Veterans' cases, there's quite a difference (from other kinds of legal work) because deadlines are determined by the Department of Veterans Affairs.  Here at the firm we have to monitor incoming mail extremely closely as sometimes postmarks on mail received from VA contrast with dates on the letters it sends.  As a result, a 30 or 60-day deadline for responding to a decision may be fast approaching, or worse:  it may have already expired.  "Certificates of Service" are non-existent in the world of Veterans law, and letters from VA are always time-sensitive.
Besides carefully reviewing the incoming papers received from VA and responding to its time-sensitive deadlines, on any given day we receive phone calls from Veterans.  Answering their questions and addressing their concerns is a priority.  In addition, we are continuously "working up" cases by requesting and compiling all the documents needed to prove each veteran's claim.  This way, when veterans have their "day in court," we are able to submit evidence to support their claims to the best of our ability.
E:  You told me about a recent letter from VA.  It was dated August 17, 2015, with a 60-day response period, which would have been October 16, 2015.  The letter was postmarked October 15, 2015 and delivered to the Office on October 19, 2015. Obviously, Bob and the law firm know how to handle this kind of outrageous process foul from VA.  From your experience in the law office, what are some of the top reasons Veterans and their families contact Bob?
D:  Obviously, Veterans are miffed that their claims have been denied by VA, particularly when they are told that their medical issues are not service-related.  They do not know where to turn or what to do next.  They reach out to Bob, and it helps them to know that Bob has traveled down the same road of VA delays and denial of claims that they are currently experiencing.
E:  Based on that, Dee, what documents or other information do you suggest callers have available when they contact you?
D:  Well, this may sound unconventional, but the first thing I would suggest is that the Veteran has patience and fortitude.  The reality is that VA is backlogged with many claims.  In fact, in each of the past 5 years, more than 1 million claims have been filed.  2014 was a record year with 1.3 million disability claims filed in that year alone.  This has created a backlog at VA.  No one better understands the feeling of frustration while waiting for a decision from VA than Bob Goss.  He has walked in the disabled Veteran's shoes; he knows firsthand how they're feeling.
The other reality is that we can work up a case for a VA hearing only after VA sends us the Veteran's claims file.  And, after we have prepared our case in support of the Veteran's claim, we must wait for VA to set a hearing date.  After the hearing is held, we are again at the mercy of VA on when it will make a decision based on the evidence that Bob Goss presented during the hearing.  This entire process is one long waiting game that can take years, and it's why I suggest that the Veteran has patience and fortitude.
E:  You are so knowledgeable about processing, deadlines, and legal procedures.  How did you become interested in paralegal work?
D:  I've been a paralegal so long that I honestly cannot remember what drew me to the profession.  I know while getting my bachelor's degree I lived in a garage apartment owned by a married couple.  The husband was a partner at a large law firm here in Houston, so that's when I first became intrigued by the legal profession.  Also, I knew that a good paralegal needed to be well-organized and receptive to investigating legal issues.  These characteristics fit well with my personality.
E:  I know you are busy here in the office.  Just one final question: what gives you the most satisfaction in working here at the law office?
D:  As I mentioned, life is short and I feel it would be inexcusable for me to leave this earth without having helped out my fellow man.  My mom used to always say, "Do one good deed a day."  I hope that I am surpassing her minimum goal each and every day of my life.  I hope that when I meet our Savior as I start my eternal life, He tells me, "Well done, good and faithful servant."
When you call the Office, you may have an opportunity to talk directly with Dee.  And remember – any notice from VA should not be ignored.  It won't improve with time.  The good news is, by taking prompt, early action, you are in the best position to maintain or improve your benefits situation.  DON'T WAIT.  Contact the Law Office of Robert B. Goss, P.C. today to a FREE consultation.